You Deserve A Getaway
Get away for a well-deserved break at our private Orchard Home with your family and loved ones. Our Single Group Booking Policy means your group will have the entire Orchard to yourselves!
Welcome to Carpe Diem Orchard Home
Carpe Diem is a Latin word which carries the meaning "Seize the day". Step into the charm of kampung-style retreat, a throwback to time when things were simple and easy. At Carpe Diem, we invite you to take things a tad slower and enjoy the simple pleasures of life. Treat this orchard home as your own. The amenities and pickings of the orchard are yours to enjoy. In return, we hope you will embrace the kampung values that we cultivate at Carpe Diem; our service is basic and non-intrusive, where life is simple and idyllic.
Jom! Balik Kampung!
Balik Kampung refers to the massive exodus that happens during the festive seasons. At Carpe Diem Orchard Home, Balik Kampung is a time of getting together, slowing down of life's pace and enjoying the simple pleasures of life. Here, you can soak in a 3 level swimming pool, fire up the BBQ pit, bicycle around, go fishing, play pingpong, jump on the trampoline, pluck fruits or just walk and explore.
Enjoy traditional games like congkak, capteh and petanque and play it just the way it's played in the kampung, when the work of the day has been done. 
Address
803, Jalan Besar Serendah
Serendah, 48000 Selangor
Malaysia
Enquiries
013-2288 223 / 018-8738 223
(9am – 6pm)
The Pavilion
Team Building Venue
The Pavilion is the latest addition to Carpe Diem Orchard Home. It is our spacious meeting venue which can accommodate a large number of participants. Surrounded by lush greeneries, it's the perfect venue for a fruitful corporate retreat, family day, team building event or wedding reception. Audio visual equipments are available for rental.
Connect with us
Call / WhatsApp. Address your enquiries or request for a quotation.
013-2288 223
018-8738 223
kampung-style living
With A Rustic Touch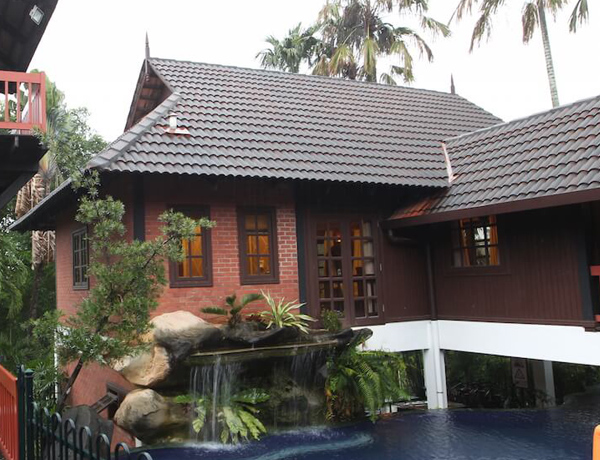 Bunga Raya Executive Suite
1 super-king bed
Our most spacious suite located at the main building, pool view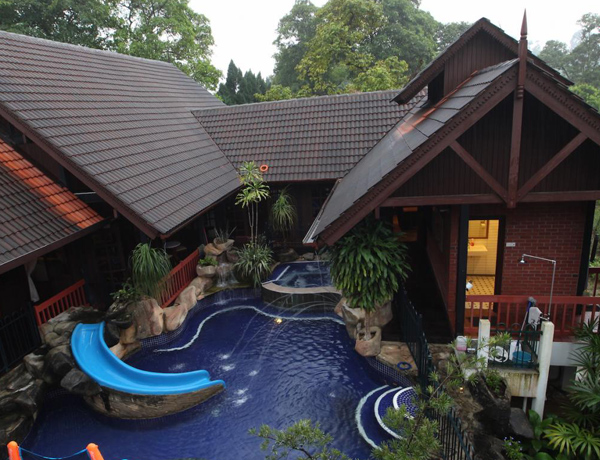 Bunga Raya Junior Suite
1 king-bed
Our suite located closest to the swimming pool. Pool view, detached bathroom
Farmer's Quarters
Private living room, dining and BBQ pit
600m away from swimming pool, may be slightly noisy due to traffic
Rambutan Chalet
1 king-bed
Garden view chalet. Spacious studio type, about 100m away from main building
Pulasan Chalet
Twin rooms, 2 king-beds
Garden view chalet facing lush greeneries. With 2 rooms and a hall
Durian Satu Chalet
1 king-bed
Garden view chalet. Spacious yet cozy, connected to Durian 2
Durian Dua Chalet (4 pax)
2 single beds
Garden view chalet. Spacious yet cozy, connected to Durian 1
Reviews & Testimonials
What People Say About Us
"...highly recommend for family gatherings..."
"Beautiful stay with the family. Place is kept extremely clean. BBQ on the first night was brilliant. The caretakers are extremely friendly took us on a little walk to see the animal and get some fruits...."
Karl Pereira
30 June 2020
"...nice environment. good hospitality..."
"Nice environment, spacious rooms, good hospitality, staffs are helpful & friendly."
Soraya Nasir
19 June 2020
"...brilliant experience, lovely location..."
"Just perfect for us. We booked the entire place and it was a brilliant weekend. The caretaker and gardeners were so helpful. They gave us food to feed the animals, picked fresh fruit. The setting is amazing."
James McCormick
8 June 2020
"...team building & family gathering..."
"The place is so relaxing. Good for team building and family gathering. It feels more than home. Thoughtful amenities, family-friendly, spacious rooms and romantic atmosphere"
Ehm Mie
23 August 2019
Read more reviews about Carpe Diem Orchard Home
Jom! Balik Kampung!
Make Carpe Diem Orchard Home your next getaway destination! All enquiries are welcome. 
Address
803, Jalan Besar Serendah, Serendah, 48000 Selangor, Malaysia.