Check out our packages
We have various packages to cater to the different needs of each group or family. From a 2 pax romantic retreat to gatherings of friends and families right up booking our entire place for a private and exclusive retreat, Carpe Diem has it all! 
accommodation packages
To Suit Your Needs
Teambuilding Package
Our teambuilding package is a private and exclusive booking to ensure complete privacy. Our hall, the Pavilion, can seat up to 65 pax classroom style and comes with meeting amenities. Organize your corporate retreat at Carpe Diem, surrounded by greeneries and nature.
Wedding Package
A 3D2N private and exclusive stay inclusive of rental of the Pavilion hall to celebrate the most important day of your life! We offer complete wedding planner service and support as well as canopies, catering, decoration, PA system, buggy rental and RELA services.
Exclusive Package
Book our entire place for a private and exclusive stay. Only your group will be occupying our entire 20-acre Orchard for a safe and private stay. Ideal for groups from 20-45 pax, we guarantee a blissful, uninterrupted holiday retreat assisted by our on-site operations executives.
Bunga Raya Package
Located at the Main Mouse, the Executive Suite and Junior Suite face the pool while the Junior Room is located below Junior Suite. Usage of the hall, dining and swimming pool is shared amongst all guests. This pacakge is available from Sunday – Thursday only.
Chalet Package
Ideal for 2 to 20 pax, our chalets are cozy, spacious and clean. With 4 chalets lined side by side, our guests experience true kampung-style living in luxurious comfort. Package is available from Sunday – Thursday, inclusive of swimming pool access.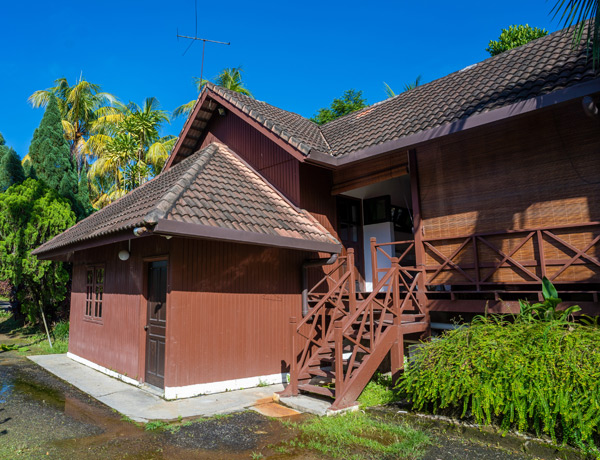 Farmer's Quarters Package
Ideal for 7 to 10 pax, Farmer's Quarters is a building by itself consisting of 3 rooms, air conditioned hall, dining and private bbq area. There are 2 common toilet and bath area. Farmer's Quarters is available from Sunday – Thursday, inclusive of swimming pool access.
Connect with us
WhatsApp your enquiries or request for a quotation.
013-2288 223
018-8738 223
Jom! Balik Kampung!
Make Carpe Diem Orchard Home your holiday and event venue! All enquiries are welcome. 
Address
803, Jalan Besar Serendah, Serendah, 48000 Selangor, Malaysia.