Food Galore In Serendah
Check out these 5 restaurants that are worth visiting during your stay at Carpe Diem Orchard Home. Featuring 3 halal and 2 non-halal restaurants, these outlets are all located within Serendah/Rawang vicinity.
5 places to eat out while staying at Carpe Diem, Serendah.
(After the lifting of the Restriction Movement Order, of course)
When the RMO has been lifted, and we are relieved to have finally flattened the curve, what's the next thing to do? Go for a stress busting holiday of course! Make your booking for a rustic kampung-style living at Carpe Diem Orchard Home, Serendah. But where is Serendah? Some sort of quaint, sleepy town? What can you do at Carpe Diem Orchard Home? Any places to explore and what activities are there in the Orchard?
Well, Carpe Diem Orchard Home is about 3km away from the quaint town of Serendah. Step into our Orchard set amidst 18 acres of rolling greeneries. There are fruit trees in abundance, ranging from durians, rambutans, pulasan, jackfruits, mangosteens and cempedak to name a few. There's a fish pond stocked with various types of fishes for your fishing pleasure. And nope, you can't bbq the fish, it's strictly catch and release. There's a 3 level swimming pool at the main building where the common hall and kitchen are located. There are many activities to keep you occupied at Carpe Diem Orchard Home. Check out this link to a full list of activities at the Orchard.
If you're coming in a group, you can actually pre-book a jungle trekking package to the Serendah jungles or arrange for an interesting woodworking experience at the Orchard itself. Minimum pax and charges apply, more info at the activities page. For dining options, Carpe Diem offers catered dining for group bookings. Here are 5 restaurants, listed in no particular order, located nearby to whet your appetite for more.
1) De Anjung Seafood (Halal)
Located just across Carpe Diem Orchard Home, this restaurant serves a wide variety of food including thai dishes and desserts, western and bbq fish. There are ample parking space with convenient seating arrangements. Check out their promotional video below.
Address: No. 1-47, Jalan Seri Pagi 1, Pusat Perdagangan Seri Pagi, Sungai Choh, 48000 Rawang, Selangor or waze: De Anjung Seafood. 99 Speedmart is located along this restaurant just in case you want to grab some post meal snacks!  Photos courtesy of De Anjung Restaurant FB page.
2) Restoran Dapo Arang (Halal)
About 3.2km from Carpe Diem, or about 4 minutes drive, Restoran Dapo Arang services asian fusion food. One of their recommended dish is the Siakap 3-rasa and telur bistik. The restaurant serves a variety of styles ranging from thai to western. BBQ fish is also on the menu.
Address: No 67 Jalan Utama Serendah, 48200 Serendah or waze: Dapo Arang Serendah
Photos courtesy of Restoran Dapo Arang FB page.
3) Restoran Nasi Campur Minang Raya (Halal)
About 9km from Carpe Diem, or about 12 minutes drive, Restoran Nasi Campur Minang Raya serves unique and tasty Padangnese dishes including rendang minang, gulai nangka, gulai perut and daging tetel. The satay is also highly recommended.
Address: No 19, Jalan Bandar Rawang 9, Bandar Baru Rawang, 48000 Rawang, Selangor or waze: Restoran Nasi Campur Minang Raya. Photos courtesy of the outlet's FB page.
4) Kedai Kopi Yee Kee (Non-Halal)
This coffee shop is one of the mainstay of Serendah town. It is packed with visitors on weekends and is famous for its butter cake and wantan mee. The wantan mee offers various additional ingredients such as bbq pork, wantan, chicken feet, hakka fried pork, curry chicken, fish paste and long bean. Other stall offerings include chee cheong fun, toasted bread, packed nasi lemak and dried meat/meat floss with bread.
Address: No 1, Lorong Kampung Dato Harun, Kampung Dato' Harun, 48200 Serendah, Selangor or waze: Kedai Kopi Yee Kee. Photos courtesy of openrice.com and Jason's Food Discoveries.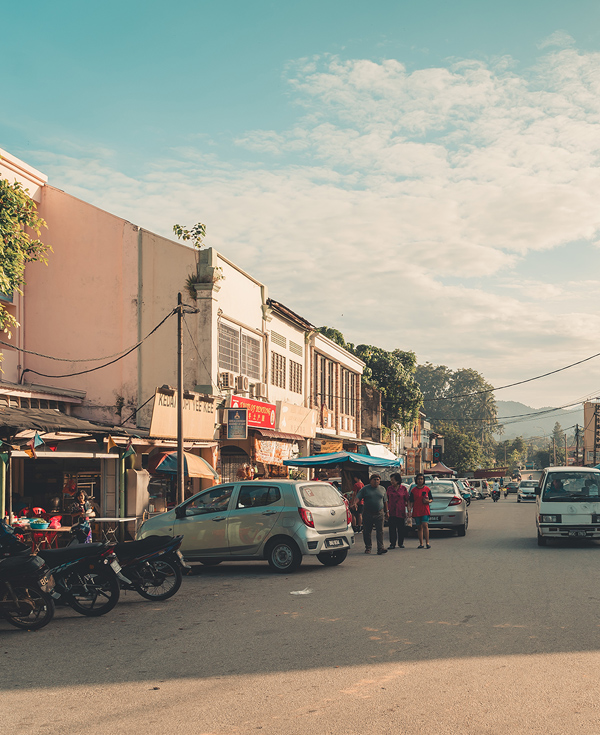 5) Restoran 218 (Non-Halal)
A Chinese restaurant that serves great dishes at affordable price? Yes it's just 2km away from Carpe Diem Orchard Home. Certainly worth checking it out, tucked away from the hustle and bustle of the city. Great tasting Chinese dishes for your family!
Address: No 1 Jalan Kiambang 1A, Desa Kiambang, 48200 Serendah or waze: Restoran 218
Photos courtesy of foursquare.com and Restoran 218 FB page.
So there you have it. 5 restaurants serving a selection of halal and non-halal dishes listed here. We are sure there are many more worthy eateries in and around Carpe Diem Orchard Home which we intend to highlight in the near future. Give these restaurants a try and let us know your dining experience! Till then, we look forward to hosting you soon!
Jom! Balik Kampung!
Make Carpe Diem Orchard Home your wedding venue! All enquiries are welcome. 
Address
803, Jalan Besar Serendah, Serendah, 48000 Selangor, Malaysia.