Attractions In Serendah.
Here, we list places of interest in and around Serendah to supplement your experience during your stay at Carpe Diem Orchard Home. Check it out!
Photo credit: https://jotarofootsteps.blogspot.com
Places to visit while staying at Carpe Diem, Serendah.
Planning a trip to Carpe Diem Orchard Home in the coming months? Perhaps a 3D2N family day or team building event? You've made the right choice. Carpe Diem Orchard Home is located about 3km away from the rustic town of Serendah. Our Orchard is set amidst 18 acres of rolling greeneries where fruit trees are in abundance. Get set for a back-to-nature experience with a kampung style theme. There are many activities to keep you occupied at Carpe Diem Orchard Home. Check out this link to a full list of activities at the Orchard.
Here, we list a few attractions that are found around the area of Serendah. From the insta-worthy Rawang Bypass trail, to a refreshing dip in at the Serendah waterfalls, check out these places and include them in your next stay at Carpe Diem Orchard Home.  We've also listed a few F&B outlets (selection of halal and non-halal outlets) on our website. In case you missed it, the link is here.
1) Rawang Bypass Hiking Trail
The Rawang Bypass Highway is Malaysia's tallest highway. One of the highlights was the construction of a new 2.7km long elevated section almost level with the treetops of the surrounding forest reserve of Taman Warisan. Driving at that elevation evinces a feeling of being among the clouds. Frequented by generations of both foreign and domestic nature lovers, Taman Warisan is a natural heritage, home to protected species of flora and fauna including the nearly extinct Giam Kanching trees (Hopea Subalata) found only in this part of the world.
There's a hike that will bring you to the top of the 223m hill with a beautiful view of vast greenery surrounding Malaysia's tallest highway. You'll be able to enjoy a panoramic view of the Rawang Bypass the tallest highway in Malaysia. The starting point is at Rawang Perdana, near Surau Nur Ikhwan which is about 15 minutes drive from Carpe Diem Orchard Home. From there it's an adventurous hike into a tunnel (option to skip this tunnel) or going under the highway to reach the peak.
Video credit: Farouq Johari
Photos credit: says.com/my/lifestyle/rawang-bypass-bukit-kuari-trail
2) Telaga Tujuh Serendah
The word "telaga tujuh" translates as seven wells. Telaga Tujuh Serendah is a small dam with seven outlets or spillways to enable excess water from the lake to be drained. Not much is known about this small dam. Some blogs estimated that it was constructed after WWII but some opinions speculated the wells to be of British engineering thus possibly dated 100 years old or more. Telaga Tujuh is about 7 minutes drive (4km) from Carpe Diem Orchard Home.
There is also some doubt about the purpose of the dam. It looks too small to have generated power. It could have been designed for flood prevention as the river flows directly into Serendah's built up area after passing through the dam. (Serendah means low lying and therefore potentially prone to flooding). Alternatively it could have been built to control the water levels in the tin mining excavations which were abundant in the surrounding area, as you can see in the aerial view map of Perigi Tujuh below. This is an open area with unrestricted access with no entrance fee. There are some picnic gazebos making it a good place for a relaxing picnic.
To reach the place, waze: Tasik Telaga Tujuh. 
Info and video credit:
https://www.malaysia-traveller.com/telaga-tujuh-serendah.html
3) Serendah Waterfall
What better way to cool off on a hot sunny day than to visit a waterfall? Head to Serendah Waterfalls at the Kampung Orang Asli Serendah in Selangor which is less than 15 minutes drive from Carpe Diem Orchard Home. It is easily accessible by regular transportation with ample parking space. There is a RM1.00 charge for parking and there are basic facilities like toilets and changing rooms at the park, as well as gazebos. There are also food stalls (which are usually open during weekends) nearby in case you get hungry or thirsty.
For the more adventurous, Carpe Diem Orchard Home offers jungle trekking package to the Serendah jungles for group stay. Advance booking before check-in date is required as there will be an Orang Asli guide to lead the trekking activity. Minimum pax and charges apply, more info at the activities page.
Photo credit:
https://thriftytraveller.wordpress.com/2013/02/01/serendah-waterfall/
4) World of Phalaenopsis @ Ulu Yam
Phalaenopsis, or moth orchids, is a flower native to the jungles of Southeast Asia – it can be found in Indonesia, the Philippines, Thailand, and Malaysia. Hidden in the town of Ulu Yam is the second largest specialized orchid farm in Malaysia. Every flower coming from the farm is naturally grown in a calm, clean, and controlled environment that allows for high-quality blooms. You can even purchase your own seedling, potted flowers, or flowers specially design for gifts. The World of Phalaenopsis is about 20km away from Carpe Diem and it takes a pleasant 25 minutes drive through the winding road of Ulu Yam town before heading towards the alternative road to Genting Highlands. The peaceful environment here just makes dining in so much more pleasant. Devour in delicious cakes and local pastries, as well as beautifully-plated classic waffles with ice cream and fruits for the gram. There's also a selection of mains such as Nasi Lemak, fried bihun and more.
Address: Lot 1017, Kampung Sungai Kamin, Ulu Yam.
Operating hours: 8am – 5pm (Daily)
Waze: World Of Phalaenopsis
Photo credit: https://klfoodie.com/hidden-cafe-orchid-nursery-ulu-yam/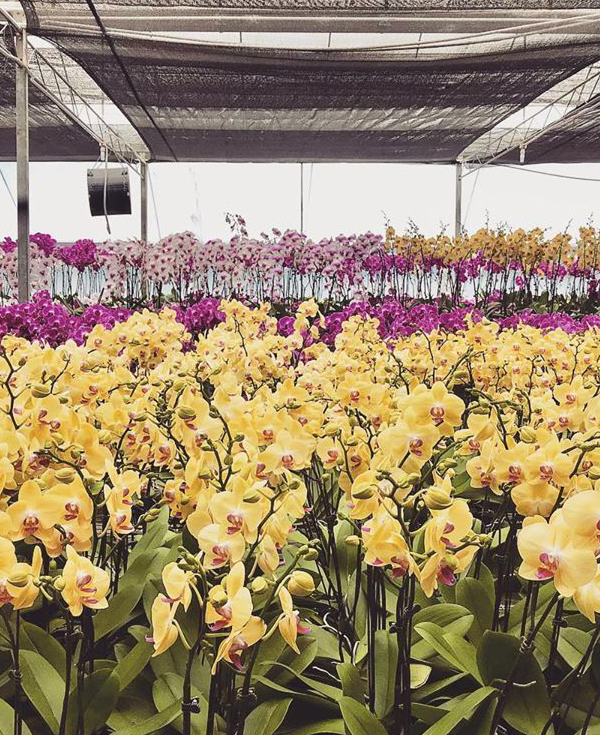 5) Hulu Tamu Hotspring (Batang Kali)
Fancy a hot soak? Then head to Hulu Tamu Hot Spring, a natural hot spring about seven kilometres from Batang Kali town in the Hulu Selangor district of Selangor State. It's about 23km away from the Orchard or a 30 minutes leisurely drive to reach this place. The facilities here have been upgraded recently by the district council with the addition of concrete shelters and gazebos and by encasing the spring pool with concrete walls. The pool is divided into two sections, one with the naturally hot spring water and the other with cooler water suitable for swimming and paddling. There is an entry fee of RM3. The hot spring undergoes upgrading and maintenance works from time to time so it's best to verify if they are open before making a trip.
Address: Hulu Yam Bharu, Pekan Batang Kali, 44300 Batang Kali, Selangor, Malaysia
Waze: Kolam Air Panas Hulu Tamu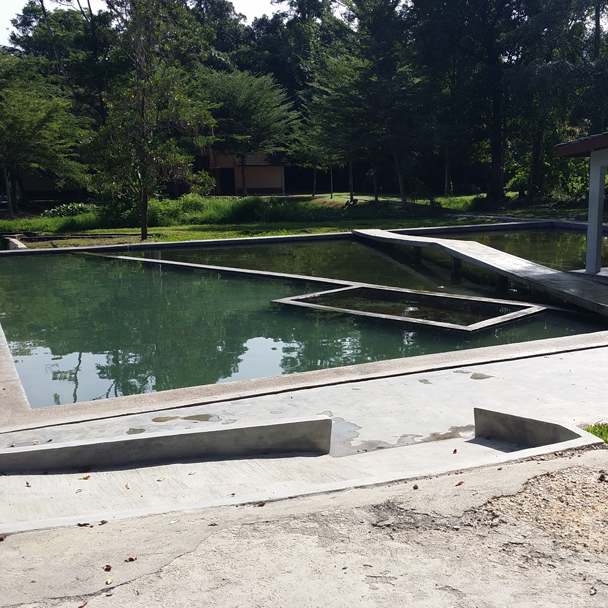 6) Bee Happy Eco Farm (Ulu Yam)
Formerly known as Guava Bee Farm, this farm specializes in "Emperor Guava" which is larger than ordinary guava and its fruit is sweeter and crisper than the average guava. Guava is also rich in vitamins, helps digestion and also helps to lose weight and improve health, so it is quite popular among consumers. They also sell organic honey which has many health benefits. Bee Happy Eco Farm is about 18 minutes drive (16.2km) from Carpe Diem Orchard Home.
Address: 16, Jalan Belida 2A/1, Ulu Yam Lama, Batang Kali.
Waze: Guava Bee Farm
Photos courtesy of Bee Happy Eco Farm FaceBook.
Jom! Balik Kampung!
Make Carpe Diem Orchard Home your holiday and event venue! All enquiries are welcome. 
Address
803, Jalan Besar Serendah, Serendah, 48000 Selangor, Malaysia.